The specialties on Mallorca are fish, paella and tapas. In Palma there are many fish and seafood restaurants down by the harbor. Dinner is eaten later in the evening here, at about 8.30-11 pm. On the promenade by the harbor there are many nice restaurants were you can sit outside and eat. Many of the restaurants and cafés are open until 1am. One of the most common things to eat in Spain is tapas. These are Spanish smaller dishes. If you order this you can try prawns in garlic, squid, cheeses and olives.
Small food dictionary: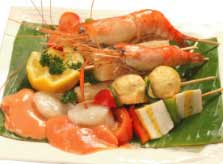 Albergínies en es forn - aborigines filled with meet
Caldereta de llagosta – lobster casserole
Guisat de peix – fish and seafood casserole
Jamón serrano – air dried ham Mallorquinas – Casserole on vegetables with bread on the bottom.
Pa amb oli – Catalonian specialty – bread which has been rubbed with olive oil (usually also with tomato and garlic)
Panades sobrasada – crispy pie doe with a filling of peas, meat of fish
Pollastre – chicken filled with prawns
Sobrasada – red spicy sausage
Tapas – small Spanish courses
Ensaïmadas – a well-known pastry
Den här sidan har följande undersidor: