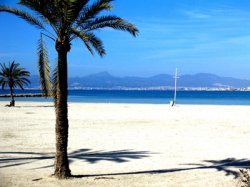 Mallorca has many different beaches. There are beaches for those who want to be seen and there are beaches for those who want to go hiding in a secluded bay. Here is something for everyone! You can find beaches all over Mallorca, as a tourist it can be fun to go to a non tourist beach just to see the more untouched places on the island.
Alcudia
This is a broad and very long beach with white, finely grained sand. The water is clear and shallow in the bay. It is very child friendly. It is not overcrowded even in the high season.
C'an Picafort
This is a village which seems to be built only for the tourists. Here you find a long, broad beach which lies near the hotels. But the water is a bit gravelly and muddy. Pedal boats and a play park with slides are situated on the beach. You can water-ski, windsurf and eat here.
Cala Bona
Cala Bona is a fishing station which is dominated by the harbor and the hotels. Here is a small, dirty and muddy beach with a lot of sea grass an algae. It is not a beach to recommend! You can go water-skiing and windsurfing.
Cala d'Or
This was from the beginning eight small resorts which eventually grew together into one. This is one of Mallorcas most exclusive resorts. Here you will find many small beaches in bays where the water is turquoise. The downside is that it is pretty far to the beaches. It is also a bit difficult to get down to the beach with a stroller. You can windsurf, sail, go diving and horseback riding.
Cala Mayor
This is a vacation resort with many tourist apartments which lies very near Palma. The beach has white and finely grained sand with some rocks and shallow water. Here you will find a mixture of tourists and Mallorcans. Restrooms and showers are free and it's child friendly.
Cala Mesquida
Cala Mesquida is a very small village on the northeast coast. The water is very clear and turquoise athe beach is quite broad. When the ocean is calm it's child friendly.
Cala Millor
The beach is large with white sand. When it's windy the water gets messy. Earlier this was a lonely coast, but now many tourists come here. The beach draws many visitors. It's often packed with tourists and there are many fast-food chains and discotheques.
Cala Sant Vicenç
This area consists of three bays, Cala Sant Vicenç, Cala Barques and Cala Molins. These beaches have gorgeous water and a beautiful view.
Cala Tuent
This is the calmest beach on the north coast.
Camp de Mar
Camp de Mar is a small bay with two large luxurious hotels. There are cliffs and smaller sandy beaches here. There is a golf course, Golfbana de Andratx, which is located only a few hundred meters from the beach. The beach has finely grained sand and turquoise water. There is a playground located on the beach and it is easy to get to the water with a stroller. There is also a pier which goes out to a small cliffy island in the bay.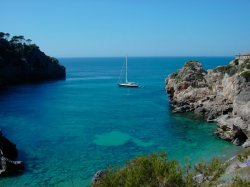 Colònia de Sant Jordi
Today this is a lively resort but earlier it was Campos's harbor. It is located on low cliffs and on clear days you can see all the way to Cabrera. From here you can also take a boat out to Cabrera.
Illetas
This is a small exclusive vacation resort with two bays. There is massage and spa-treatments available right next to the beach. It is a clean beach with clear water. The sunbathing chairs cost some money, but there are free showers and restrooms. It is not very easy to get to the beach with a stroller. The people on the beach are mostly adults.
Magaluf
Magaluf is a worn down place which has a broad beach with lots of shells. The water is not so shallow and the beach is usually filthy and the water muggy. This is especially true during the end of the season.
Palma Nova
This resort lies near Magaluf and here you can find three large beaches with many tourist shops. The sand is white and there are a lot of seashells. The water is often dirty and pretty shallow.
Playa de Palma
Playa de Palma lies very close to the city of Palma and this is were many mallorcans come on the weekends. The beach is very long with fine sand and the water is shallow. The beach often has many visitors and the noise from the airport can be disturbing. It's great for families with children and during the summer there are many different fun things to do.
Puerto de Pollensa
This is a beautiful fishing village which lies in a bay with mountains surrounding it. There are two beaches, one on each side of the marina. The first beach is long and pretty broad and the second is divided between private hotels. The sand is white and finely grained and the water is clear and shallow. There is quite a bit of traffic near the beach. There is the possibility to windsurf and other water sports.
Puerto de Sollér
This is a small fishing village which has both a marina and a beach which lie in a secluded bay. The beach by the marina is small and has gravelly sand. There is another beach on the other side of the bay where the sand is even courser and grayer. This is not to recommend for children for the water gets deep very quickly!
Playa es Trenc
This beach has snow-white sand and the parking is quite expensive. This beach is also for naturist. The water is very nice and on the beach you can find some small restaurants. Not too many tourists come to this beach. It is mostly people from Palma who come here on the weekends. You will also find nature lovers and hippies here.
Santa Ponsa
This is a bit of a larger village which feels kind of impersonal, but it attracts golfers because some nice courses are located here. Here is also a long beach with white fine sand.