In Magaluf you will find many, many bars, restaurants and discos. Last time I counted there were 23 bars and 8 discos, and that's only on one of the streets! That's the way it should be! There are places for all ages. From the middle of June to the middle of August the majority of the people who come here are younger. But before and after this time there are a lot of middle aged and elderly people because the temperature is more comfortable.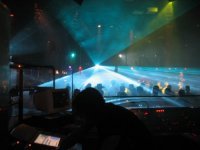 BCM Planet Dance – This is the largest club on Mallorca and the absolute best! You pay an entrance fee and then you drink for free the whole night. The club consists of two floors. On the top they play trance techno euro dance and disco music and every night they show one of Europe's largest laser shows with over 4 million watt lights. On the downstairs floor they arrange foam and popcorn parties and the music is a bit older. Lot's of Englishmen come here.
Grabbarna Grus – This is a Scandinavian bar with great music and a great atmosphere. They are open until 4 am every day. This is the perfect place to go to first with a large amount of different kinds of shots. This is the best and nicest bar in Magaluf!
Casablanca – A Scandinavian nightclub with artists and great dj´s. They are open until 6 am. This is definitely a place you should visit. Don't miss their grill restaurant which is located in the back, they have great food. This is the best Scandinavian nightclub in Magaluf!
Bora Bora Beach Club – They have a décor in white and blue and Des Mitchell and Lee (DJ Adamski) play all night. The music is house of course.
Poco Loco Disco Club – This has been one of the most popular places for a very long time. They have a British DJ, Brett, which is one of the best. Here you can dance to music from all decades and they are open until 6 am every morning.
Baywatch Bar – It's located behind BCM and has both indoor and outdoor seating. They play funky house and old school music.
Den Glade Viking – Scandinavian bar with high tempo. This is an old classic with really wild and fun people behind the bar and if you're lucky you'll end up on a picture on the back wall. This is easily the craziest bar in Magaluf.
Coyote Ugly – Just like the movie the girls dance on the bar.