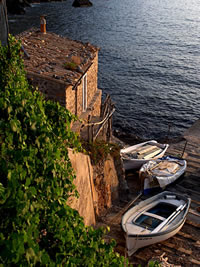 This is a small village in the mountains which has become quite famous because the composer Fredéric Chopin lived here one winter with the author George Sand. The village lies 400 meters above the sea and the road to get there is surrounded by cypresses and bread-trees. The book "A winter on Mallorca" which is written by George Sand tells about their time on Mallorca. They lived in an abandoned convent at the end of the 1800´s. To Valldemossa millions of tourists come every year, to visit the convent and the Chopin museum. Left behind is, among other things, Chopin's piano.
In Valldemossa there are also other interesting things to see and do. There is a small variety of shops and it was also here that the saint Santa Catalina Thomás was born. You can go and visit her childhood home. Every year they celebrate Santa Catalina and a young girl is chosen to play the part of the saint. She is then driven through the village by six horses.
On the walls of almost every house in Valldemossa you can see ceramic paintings. The motives are mostly about the saint. The old part of town is surrounded by framings and stone walls. There is also a small harbor, Puerto Valldemossa, where there is the opportunity to go swimming and it's quite a pleasant beach since there are few tourists. It is recommended to come to the village early in the morning or late in the afternoon. This is to avoid crowds of other tourists. There are also many cozy restaurants to visit. Nearby the actor Michael Douglas and his wife Catherine Zeta – Jones live.