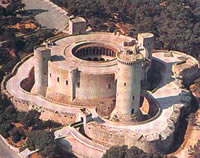 A little bit west of Palma lays Bellver castle 112 meters above the sea. In the year of 1309 Jaime I started to built the citadel and it was meant to be used as a summer castle for the kings. But that was not what it was used for when it was finally finished. It was mostly used as a political prison all the way until the beginning of the 1900´s. Later they built aprons and three large and four smaller towers. One of the towers is called the loyalty tower and many prisoners have carved their names as they were waiting for their own execution.
The style of architect is a mix between gothic and roman style. There is a showroom and a concert hall which is still used today. From a special viewing point you can see several kilometers out over the sea and the land and there are orchids growing wild everywhere. There is also a museum which contains sculptures and other interesting objects from the cities history.
The citadel is open every day from 9 am until sunset and admission is 2 EUR.